Title- Treasure Island
Author- Robert Louis Stevenson
Published by- Kingfisher in 1882
Genre- Classic, Young Adult, Fiction, Adventure
Page number- 311 pages
Place I purchased it- R&B Used Bookstore
Rating- 3/5 stars
Synopsis- "For sheer storytelling delight and pure adventure, Treasure Island has never been surpassed. From the moment young Jim Hawkins first encounters the sinister Blind Pew at the Admiral Benbow Inn until the climactic battle for treasure on a tropic isle, the nevel creates scenes and characters that have firetd the imaginations of generations of readers. Written by a superb prose stylist, a master of both action and atmosphere, the story centers upon the conflict between good and evil – but in this case a particularly engaging form of evil. It is the villainy of that most ambiguous rogue Long John Silver that sets the tempo of this tale of treachery, greed, and daring. Designed to forever kindle a dream of high romance and distant horizons, Treasure Island is, in the words of G. K. Chesterton, 'the realization of an ideal, that which is promised in its provocative and beckoning map; a vision not only of white skeletons but also green palm trees and sapphire seas.' G. S. Fraser terms it 'an utterly original book' and goes on to write: 'There will always be a place for stories like Treasure Island that can keep boys and old men happy.'
---
---
Dear bookworms of the world,
When you think of pirates there are probably two versions that pop into mind. First, Captain Jack Sparrow comes to mind. The second, is more traditional with an adventure seeking treasure and the Jolly Roger flag being raised for cast off.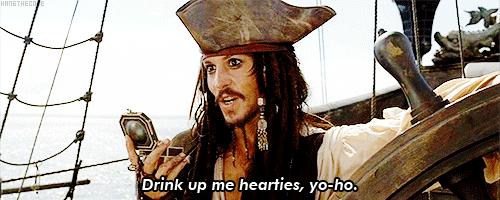 I think that Treasure Island was the start of most depictions of piracy in the fictional world. I absolutely love anything and everything pirates, so this book to me was amazing.
I think that this book is what inspired all the pirate stories and movies that we love today. And I think that is just a huge accomplishment.
slow claps to Robert Stevenson for creating a masterpiece that all pirate related movies, books, and tv shows are inspired by!
Well that is it for this review! What I did say it was a mini book review! HAHA see ya on the flip side!
XOXO,
Cayla