Title- The Princess Bride
Author- Annotated by William
Published by- Ballantine Books in 2003
Genre- Fantasy, Science Fiction, Fairytale, Young Adult, Adult Fiction
Page number- 398
Place I purchased it- Barnes and Noble
Rating- 4/5 stars
Synopsis- What happens when the most beautiful girl in the world marries the handsomest prince of all time and he turns out to be…well…a lot less than the man of her dreams?
As a boy, William Goldman claims, he loved to hear his father read the S. Morgenstern classic, The Princess Bride. But as a grown-up he discovered that the boring parts were left out of good old Dad's recitation, and only the "good parts" reached his ears.
Now Goldman does Dad one better. He's reconstructed the "Good Parts Version" to delight wise kids and wide-eyed grownups everywhere.
What's it about? Fencing. Fighting. True Love. Strong Hate. Harsh Revenge. A Few Giants. Lots of Bad Men. Lots of Good Men. Five or Six Beautiful Women. Beasties Monstrous and Gentle. Some Swell Escapes and Captures. Death, Lies, Truth, Miracles, and a Little Sex.
In short, it's about everything.
Buy the book here  The Princess Bride
---
---
Hello bookworms!
So I got super bored today and decided to write a book review on one of the best books that I have read last year! The Princess Bride is a charming story full of adventure and wonder. It is the perfect book for any type of reader!
I watched the movie before I even read the book. I did not know it was a book at the time! But I was obsessed with the movie! It was the movie I had to watch every night, or put it on while I was doing other tasks.
I would watch the movie during any emotion I felt, whether it be happy, sad, lazy, irritated. The movie fit for all my moods, AND the plus side was that when I was in a negative mood, my mood would automatically lift up!
After discovering the book and reading it, I have come to my own opinions about the book. And to make it short, I loved every bit of it! Maybe a tiny bit more than the movie. I loved how you can read the back stories of all the major characters, and you got to know the personality of the character so much more. Also, the plot was more complex than in the movie. It was just a complete read. There was nothing I would change about the story!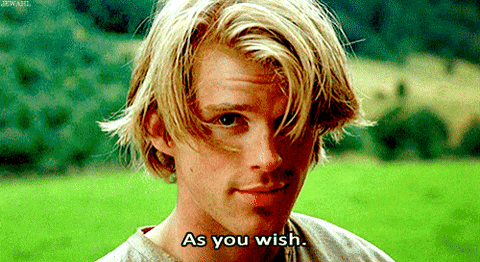 The one thing that shocked me (but I can't say I didn't like) was that Buttercup was completely different to the movie. In the movie she was a sweet young girl who was humble and kind. However in the book. Buttercup was obnoxious and stuck up. She was not the kind of girl that I could see Westley falling in love with. But oh well it still made for a great story!
I would have to say that besides Westley being my favorite characters, Inigo Montoya came in close second. He is such a driven character. I remember reading his backstory and feeling too many feels. I felt shock, despair, sadness, and then determination. I basically felt every emotion that Inigo had. Spending all those many years to avenge his father? That is called dedication and I need me some of that!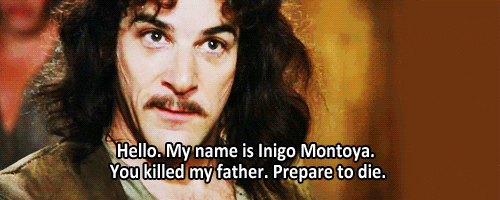 Sword fights, true love, adventures, and more is what is in store for you when you open this story up. The plot is so complex and never ending. It is almost as if the story is a Labyrinth. There was so much going on in the story, but it never drew the line of overwhelming. It definitely felt magical and complete!
I can not rave about this story anymore. If I did, then this review might be the longest book review known to mankind. So I must start concluding before I get too much out of hand. Anyway, I recommend all of you to take a chance on this book and READ IT!
XOXO,
Cayla
P.S. Sorry not sorry for all of The Princess Bride gifs. They are amazing and that is my argument.
QUESTION: Have you read or seen The Princess Bride? What were your thoughts on either the movie or the book? Let me know in the comments below!