Title- Orange is the New Black
Author- Piper Kerman
Published by- Spiegel & Grau in 2010
Genre- Memoir, Nonfiction, Autobiography, Crime
Page number- 299
Place I purchased it- Barnes and Noble
Rating- 5/5 stars
Synopsis- With a career, a boyfriend, and a loving family, Piper Kerman barely resembles the reckless young woman who delivered a suitcase of drug money ten years before.
But that past has caught up with her.
Convicted and sentenced to fifteen months at the infamous federal correctional facility in Danbury, Connecticut, the well-heeled Smith College alumna is now inmate #11187–424 — one of the millions of people who disappear "down the rabbit hole" of the American penal system.
From her first strip search to her final release, Kerman learns to navigate this strange world with its strictly enforced codes of behavior and arbitrary rules. She meets women from all walks of life, who surprise her with small tokens of generosity, hard words of wisdom, and simple acts of acceptance.
Heartbreaking, hilarious, and at times enraging, Kerman's story offers a rare look into the lives of women in prison—why it is we lock so many away and what happens to them when they're there.
Buy the book here  Orange Is the New Black: My Year in a Women's Prison
---
---
Hello readers of novels,
So as you guys all know, there is a very popular show on Netflix called Orange is the New Black. 
But this show was not created out of thin air. It was based on the memoir written by Piper Kerman. If you have no clue what this memoir is about it is about a woman, Piper, who spends a year in a women's prison. She recounts the events that took place while she was in prison. It is a very eye opening memoir about what really happens in a women's prison. It is not as dramatized as what happens in the tv show, but nevertheless, it helps people who have never been in prison to know what actually happens to those who are incarcerated.
Being a criminal justice sociology major, I love learning and understanding the criminal justice system and what it entails for those who are incarcerated. In my courses we also discuss the society make up within the prison systems. So this book was definitely an eye opener. I knew the tv show was overly dramatized to get the views, but this book is the real deal.
Piper doesn't leave anything out. She discusses her feelings throughout the year that she was in prison. She discusses the small community in which is was apart of in the prison. She also even went into detail about how prisoners are just thrown into prison and forgotten about, and when the prisoners are released they don't get prepared for going back into society.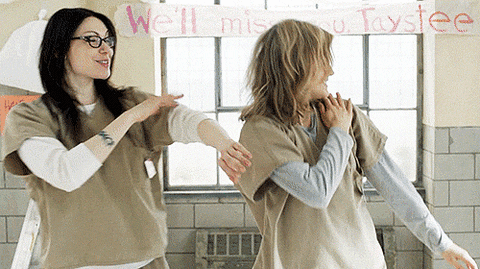 It was such a heartwarming and eye opening book. I really learned a lot from this read.
I never would've thought that I would enjoy reading memoirs. My thought process towards memoirs was why do I want to read about a person's life? But sometimes that isn't the case. I was completely wrong. Memoirs are not always about a person's life. It sometimes has to do with a certain part of their life that really impacted the way they would lead their life.
Orange is the New Black really changed my mind about memoirs. I believe that this book has opened up a whole new genre for me.
XOXO,
Cayla
QUESTION: Have you read this book before, if so what are your thoughts on the book? DO you have any recommendations for members/autobiographies? Leave your comments below!